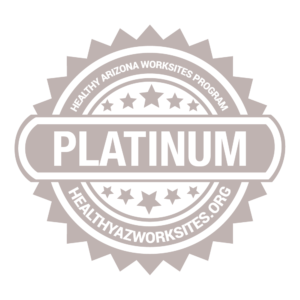 The award-winning employee wellbeing program is an employer-sponsored program designed to engage team members participation in activities that promote behaviors to improve quality of life, enhance personal effectiveness and reduce health risks in the workplace and team members personal life.
Sun Health is thrilled to offer an Employee Wellbeing Program where the YOU are able to decide which challenges you feel ready, willing, and able to complete. You are able to choose and complete up to 3 challenges per month, and for each completed challenge your name will be entered into the monthly drawing for a $25.00 gift card. Incentive points can be earned by participation in the wellbeing challenges and activities. The points can be used towards incentive rewards throughout the year.
We look forward to having you participate in the program!  If you have any questions, please don't hesitate to contact the Wellbeing Champions at each of the communities.
Contact your Wellbeing Champion for more information today!
Administration Champion 
Leilani Anderson
Leilani.Anderson@sunhealth.org
Grandview Terrace Champion 
Tina Parra
Tina.Parra@sunhealth.org
La Loma Village Champion 
Maile Bottorf-Wilkinson
Maile.Wilkinson@sunhealth.org
The Colonnade Champion 
Debbie Sables
Debbie.Sables@sunhealth.org
Wellbeing Program Administrator  
Stephanie Hannon
Stephanie.Hannon@sunhealth.org 
Director of Total Compensation  
Leilani Anderson
Leilani.Anderson@sunhealth.org